May 2019 Lunch
Date:
Monday, May 6, 2019
Location:
Omaha Marriott Regency
Speaker:
Michael W. Halloran, CFP®, AEP®, ChFC®, CLU®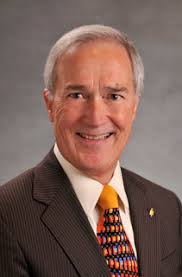 Join us for the final meeting of the season!
We have been given a great opportunity to have NAEPC presenter, Mike Halloran speak to our membership. Because of his limited availability, we are changing the date and time of our May meeting.
Monday, May 6, 2019
Omaha Marriott Regency
AGENDA
11:30 AM - Lunch & Networking
12:00 PM - Meeting & CE Program

Charitable Remainder Trust with an Option of Using Income Tax Savings to Convert to a Roth IRA
Presented by: Michael W. Halloran, CLU®, ChFC®, AEP®, CFP®
This program will explain what a Charitable Remainder Trust is and teach advisors and agents how clients can offset the income tax of converting a qualified plan to a Roth IRA by using a Charitable Remainder Trust. This program offers one hour of CE for insurance, legal, accounting, CFP, CAP and PACE (pending approvals).