OEPC Breakfast - March 2023
Date:
Tuesday, March 14, 2023
Location:
Happy Hollow Club w/ live streaming
Speaker:
Courtney Foltz and Nicole Petrow
Registered for this event? Login now to view additional event details.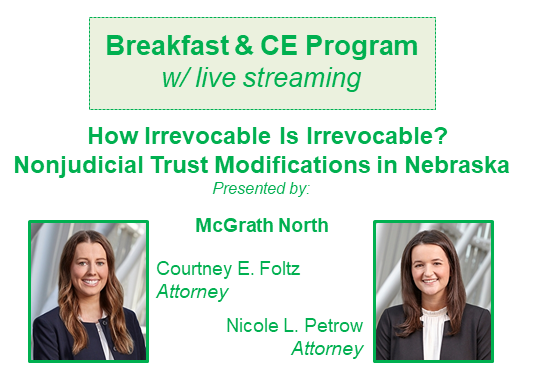 AGENDA
7:30 - Breakfast Buffet & Networking
8:00 - OEPC Meeting & CE Program
While the name suggests otherwise, irrevocable trusts are frequently modified in Nebraska to address unanticipated changes in circumstances. Trustees and beneficiaries frequently seek trust modifications to address beneficiary issues, costs of administration, changes of situs, the need for updated tax planning, and more. Estate planning practitioners utilize nonjudicial trust settlement agreements and the trustee's decanting power to address such changes in circumstances while avoiding the time and expense of court proceedings. This presentation will summarize the mechanics of nonjudicial settlement agreements and trust decanting, who may exercise these powers, the scope of modifications by either method, and other key considerations.
1 hour of CE for NE & IA legal, NE accounting, NE insurance and CFP (pending approvals). General certificate available for self-reporting additional designations.
REGISTRATION FEES
Members - $0 (included in dues)
Guests - $50 *must be registered by a member
QUESTIONS?
Contact Stacie Sarasio @ 402.210.9446 or Stacie@OmahaEstate.org